Veteran journalist Nguyen Nhu Phong in Hanoi has just posted on his personal open-ended letter as an ultimatum to "55 people buying fake diplomas from Dong Do University," demanding that those people resign, otherwise he will publish their identities.
Phong, also a former Vietnamese police colonel, told VOA that one of the reasons for the open letter was because the legal protection agency had not yet released a list of the certificate's buyers.
Domestic media reported this week that the Ministry of Public Security prosecuted the defendants, detained four Dong Do University officials, including its rector, because they had illegally granted more than 600 bachelor's degrees in English.
Among them, there are 55 people using fake diplomas to apply for postgraduate admission or finishing their Ph.D. thesis, still according to the state-controlled press. The investigation agency under the Ministry of Public Security was quoted by the press as saying that all cases of using fake diplomas of Dong Do University were "reputable people, holding key positions in state agencies, departments and branches; and most of them are working as masters and doctoral students.
In an open letter posted on November 30 on a personal Facebook with a total of more than 47,000 followers, Nguyen Nhu Phong, former editor-in-chief of PetroTimes, former deputy editor-in-chief of Cong An Nhan Dan newspaper, said he currently has a list of 55 buyers.
Accusing the buyers of being "accomplices" to organized offenders at Dong Do University, veteran journalist Nguyen Nhu Phong made a suggestion that he said was to save face for those who buy degrees. That is: "I give them one month for resigning from their current positions."
"After one month, if there is no movement, I will publish the identities of each person, alphabetically," Mr. Phong assured, and added: "Of course, I am responsible for the neutrality of this list."
The post of former newspaper editor-in-chief-former police colonel received 7,000 likes; more than 160 comments support and was spread by nearly 1,000 others through the function "share" of Facebook.
Expressing his point of view to VOA, Mr. Phong emphasized that the situation that one side has people who sell counterfeit certificates to make money, and on the other side there are people who buy fake diplomas for further study or promotion in state and party agencies and their movement is "very dangerous, destroying society and cannot be forgiven."
Regarding the driving force behind his open letter, journalist Nguyen Nhu Phong said:
"I find it strange why until now the legal protection agencies have not announced the identities of these people. I am frustrated and feel the need to speak up. I want to see how far the truth is that the integrity of this number of people."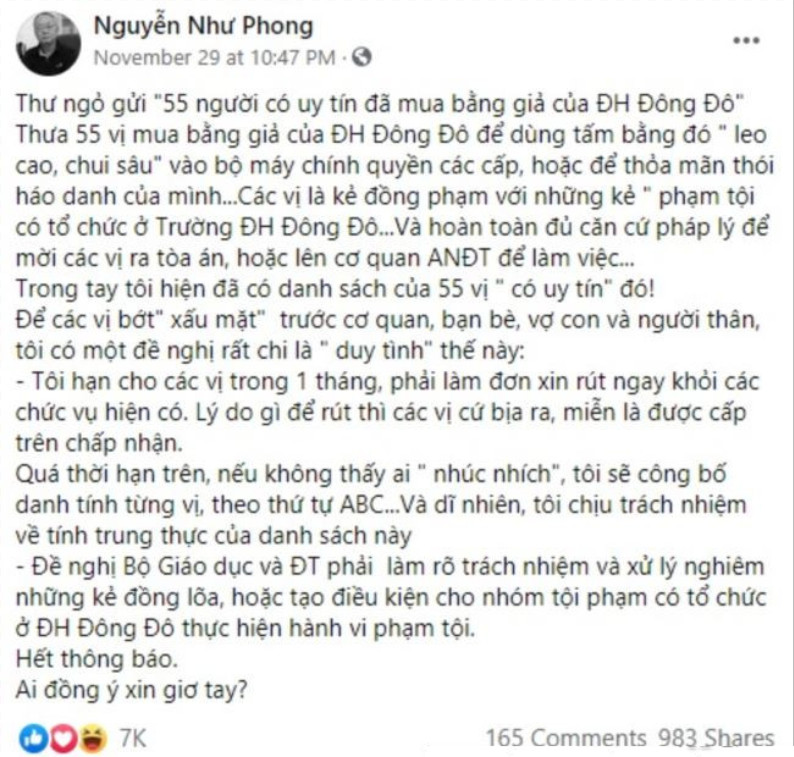 Another suggestion raised by Mr. Phong in his open letter is that the Ministry of Education and Training must clarify responsibilities and strictly punish accomplices, or those who facilitate organized crime groups at Dong Do University.
Mr. Phong's article was also shared in forums on social networks. There, many praised but also expressed concern that the open letter is ultimatum could bring troubles, even danger for him.
However, the former editor and deputy editor of the two newspapers informed VOA that he was not worried:
"I have been working for 40 years, threatened many times, but this time no one has any negative words or intimidation. The number of people supporting me is very high. Many friends and brothers called to ask."
Besides what was expressed on the personal page with tens of thousands of followers, veteran journalist Nguyen Nhu Phong shared with VOA his worries about "degrees" too heavy in Vietnam.
From his point of view, it is a pressure for everyone from 1st grade to advanced level. According to the reporter-former police colonel, in such a society, without qualifications it is impossible to progress, and that is a dangerous thing. Mr. Phong added:
"Because of the importance of qualifications, people are willing to do anything to get them. A society with a degree, talented people will never have a place, our society will fall back. I want to warn and condemn this more strongly."
Over the past years, Vietnamese authorities have continuously discovered many counterfeit cases and purchases of diplomas.
Among them, a few serious cases include: Thanh Hoa province's police arrested 15 people to forge diplomas and certificates in large numbers at the end of October 2020; Thua Thien-Hue police discovered that the line making hundreds of counterfeit certificates involved many "state officials" in May 2020; Nam Tu Liem district police, Hanoi, discovered 1 ton of counterfeit certificates in May 2019 related to "many officials and officials."
However, according to information in the Vietnamese press, in recent years, although a total of hundreds of officials have been disciplined for using fake diplomas in a number of provinces such as Lai Chau, Hai Duong, Nghe An, Dac. Nong, Dong Nai, Binh Phuoc etc… and in both the Ministry of Public Security and the Ministry of National Defense, but these cadres are mainly in positions at the district level or lower, or the department heads and deputy heads of ministries.
Earlier in November, during an interrogation session at the Vietnamese parliament, Minister of Public Security To Lam confirmed that "even in the police, many officers have used fake papers, including all kinds of degrees and certificates."
Minister To Lam noted that "In the past, for people using fake papers, only heavy administrative handling, rarely handled criminals, but it is time to deal with criminals."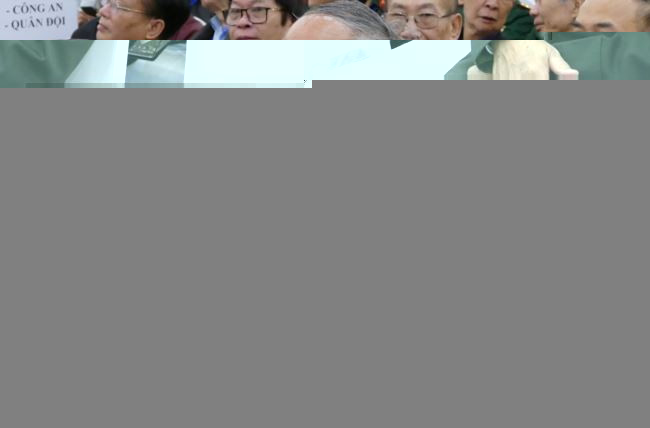 Veteran journalist Nguyen Nhu Phong said that the fight against counterfeiting cannot only rely solely on legal tools, but also needs the society to join in by boycotting and showing disdain to those who use fake diploma.
Mr. Phong also mentioned a root cause is the economic structure. Specifically, according to him, in Vietnam, the state economy is defined as the key while the private economy is considered secondary, leading to the failure of the state to recruit talented people. Mr. Phong added:
"To combat fake certificates, only one way is to change the assessment. To change the way of assessment, there must be a change in the economic mechanism. Only when business owners have real power, need capable people to work for them, can the talented people get the positions."
According to VOA's observations, in newspapers and social networking forums, many people suggest that Vietnamese authorities need to punish all those who use fake papers to promote promotion or other self-seeking as similar to the crime of undermining society and destroying the country. They believe that handling in such a direction will make those who buy and sell fake certificates and diplomas "no living land."
Thoibao.de (Translated)
Source: https://www.voatiengviet.com/a/nha-bao-ky-cuu-ra-toi-hau-thu-voi-55-nguoi-dung-bang-gia-cua-truong-dong-do/5682659.html