On November 27, 2020, some state-controlled newspapers suddenly posted an article on the case of an extenuating judgment for Nguyen Duc Chung, including the paragraph with the following content: "The defendant has a history of mental illness, committed the crime for the first time and is subject to a criminal liability mitigation." Immediately the article was copied and distributed by netizens at a dizzying speed. Soon after, this article was removed from the page, making netizens make many suspicious questions.
This is probably a tip of the online community poll. Too strong social opinion always makes the government wary and this time they withdraw. But why they deleted the article is the question that many people want to answer.
In fact, in the police investigative agency, there are a number of fractions and the evidence is that Nguyen Duc Chung used an officer in the police investigative agency to steal confidential documents. In the press, too, there will be no shortage of relatives with Nguyen Duc Chung wing and give information to help this man to escape from being punished.
Previously, Mr. Nguyen Duc Chung's family also asked for bail because of a history of cancer but it was not accepted by the authorities. During the two forces fighting, each side arrested the other, they certainly never let go, so the fact that To Lam arrested Nguyen Duc Chung and he would never let him go out. If he is released, he will run as far as Nhat Cuong Mobile's Bui Quang Huy.
What is the reaction of the online community?
On the personal Facebook page of Mr. Nguyen Dinh Bon, it reads as follows:
"Psychological history? In the recent indictment to prosecute Mr. Chung, it was written: "In the case, the People's Procuracy assessed that the defendant Nguyen Duc Chung admitted, reported his behavior and repented. When he was still working, Chung was repeatedly rewarded and awarded the title of Hero of the People's Armed Forces.
"The accused has a history of mental illness, committed the crime for the first time, he is subject to extenuating circumstances of criminal liability," mentioned the indictment.
Back in time 4 years ago, on the morning of June 14, 2016, at the first session of the Hanoi People's Council for the 2016-2021 term, 101 out of 103 delegates present approved so the People's Council of Hanoi City elected Mr. Nguyen Duc Chung as Chairman of the People's Committee of Hanoi for the 2016 – 2021 term with 100% approval.
So 100% of the officials that day, but most of them are still in position, have a history of mental illness or not?
Although the website zing news has deleted the mental case, replaced it with cancer, but I believe they are forced to fix it, not be able to make it up."
On the Facebook page of Mr. Nguyen Lan Thang, it wrote the following: "Oh, is this reading wrong? My brother was the former captain of the illustrious criminal squad, the majestic Hanoi police director, the majestic chairman of Hanoi, a hero of the armed forces … but he had a mental illness … "
In general, no one agrees with this reason. This is clearly the guise that the Nguyen Duc Chung faction wants to come up with to help him escape from being punished. From cancer to mental illness, in general, they use all kinds of ways to try to help him.
Does a person with a "history of mental illness" become the chairman of the City People's Committee does anyone believe? And if so, his political opponents would soon take advantage of this to knock him out of the race for the second largest power seat in the Hanoi capital, but let him sit there for more than 4 years?
In general, these cheap criminals like this are blatantly taking place in front of the people's eyes, they see people as ignorant idiots, so they say what they want to say. This is a very obvious act of look down people.
This technique has been used by communist officials and is successful
In 2001, a VTV reporter who was a daughter of a member of the party's Central Committee and the leader of VTV was sent to Sweden for three weeks. In the first week, on February 11, 2001, she was arrested by the police of Kalmar city for stealing from the supermarket. At first she denied denial, but when the police opened the video record she had to bow her head to confess guilt. She stole in Orebro, Kaimar, the cosmetics worth $400. The amount of money is not large, but in Sweden stealing and corruption are very serious, so by law she has to go to prison. Thought being in a capitalist prison could not change the sentence, but it didn't. With her father's powerful hand, the Vietnamese Embassy in Sweden had to intervene. And after a week of detention, on February 16, 2001, she was released, after a doctor's note confirmed she was "mentally ill" from Vietnam.
In 2006, she went to England to work. The hand blemish recurred and she stuck the digital camera in the shop. Once again, the powerful father had to save his daughter by asking the Vietnamese Embassy in the UK to intervene and the doctor's paper certifying that her mental illness was back again. And this time she was released again.
The law of any country is the same, exempt from criminal prosecution for people with mental illness. So, if you run a certificate of insanity in a foreign country, you can do something wrong, but if you do, the offender will be sent to a real mental hospital.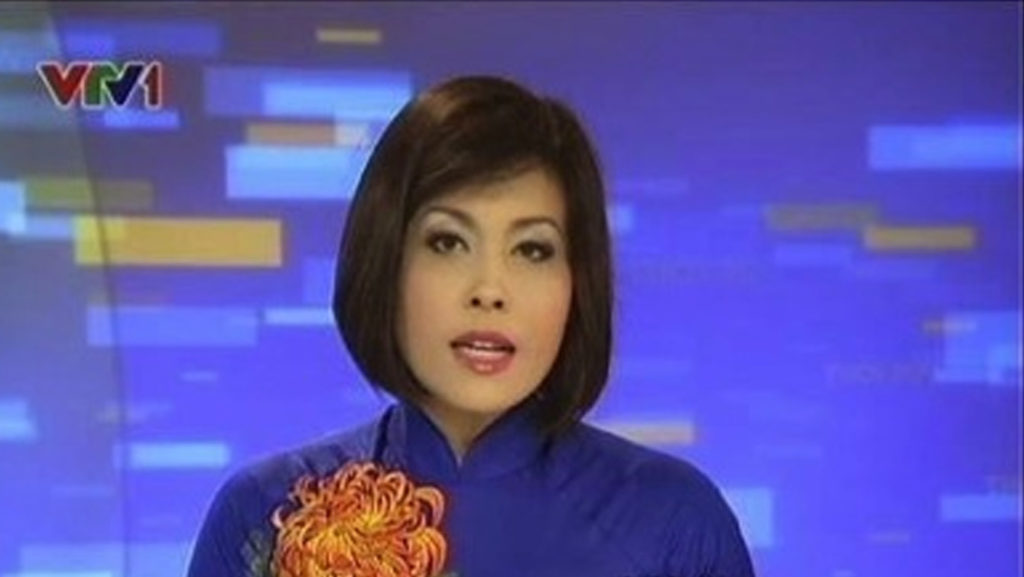 Yes! It is a technique that uses mental illness to run crimes and has been successful. But it was with the foreign authorities, and with the Vietnamese authorities, why would they accept that reason for Nguyen Duc Chung? So it is very likely that this reason has been rejected as the reason for cancer bailiffs. It is likely that Mr. Nguyen Duc Chung is difficult to escape.
Is it really that people want to help Nguyen Duc Chung escape from being punished?
From another perspective, Do Nga Facebook has commented that "Nguyen Ba Thanh does not have cancer, but when people need him, he has .. real cancer. If someone likes to be mentally ill, then maybe people give him a real psycho? Just one dose of medicine, the awakened person becomes a mental person, very simple. Believe he is mentally ill, whether from the side willing to help him escape from being punished or the other side wants to throw stones to find the way for a plan that makes him no longer remember to confess? No one can know! Talking about communists is very unpredictable, guys. Anything is possible."
Yes! This is a rather strange angle of view, but somehow it makes sense. It is worth mentioning that the government has just put the article in the newspaper that they deleted it immediately after the phenomenon of social networks copying and spreading the news. This seems like the government is trying to throw stones to find the way, not that Nguyen Duc Chung wants to give this excuse for his crime. In particular, trying to escape from being punished due to cancer was rejected once by the communist government, it is difficult to bypass the police investigation because of mental illness this time. Besides, if Mr. Nguyen Duc Chung is a member of the Party Central Committee, he is entitled to the monthly health care system of the Central Committee for the Care and Protection of the Health, so there is no way they do not know Mr. Chung's medical history. So why is cancer appearing today?
In fact, what happens inside the police investigation agency is very unpredictable, especially for crimes related to national security issues such as Nguyen Duc Chung. Remember last year, Mr. Tran Bac Ha, who was healthy, suddenly heard that he died and then his son had to flee to disappear because he was afraid that he would end like his father. In communist mode, whoever holds a lot of secrets, that person will face a lot of danger when being captured. Mr. Nguyen Duc Chung was the one who was in the investigative police department, sure he knows that.
How must Nguyen Duc Chung do to escape from being punished?
In the newspaper, Vnexpress said, "On November 20, Mr. Chung and Dung, former officers of the Police Department investigating economic crimes, corruption, smuggling (C03, Ministry of Public Security) were investigated by the Ministry of Public Security. The police proposed prosecution for the appropriation of state secret documents, according to Clause 3, Article 337 of the Criminal Code 2015, a penalty of 10-15 years in prison."
Currently, he is 53 years old if he was sentenced to prison, then he would be 63 or 68 years old. Therefore, it is understandable that his family and relatives trying to help him escape from being punished the crime so that he has a lesser sentence is understandable. But how to run? Meanwhile the reason for the cancer has been rejected and the reason for the mental illness seems to be unsuccessful because the new press has been rushed.
I do not know how much Mr. Nguyen Duc Chung holds the secrets of the above officials, if he holds too many secrets, his life will be difficult to preserve. But if he ran, he would run him out of prison early, but the longer he stayed, the more unpredictable the situation was for him.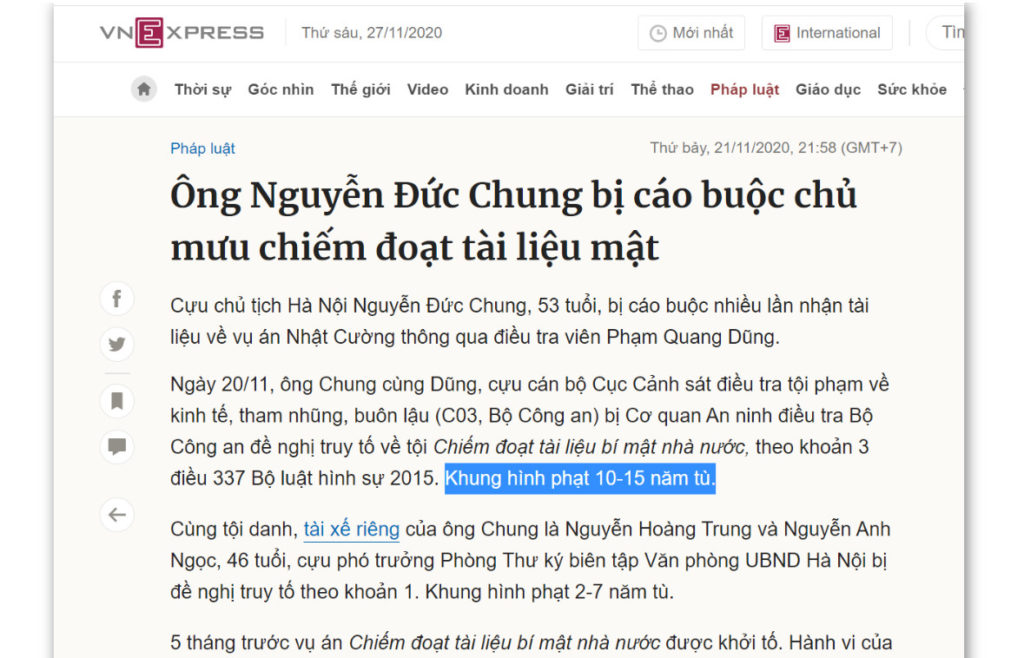 At present, we can only take the title of hero of the armed forces and families with meritorious services to the revolution to deduct a few years in prison for Mr. Chung. Or use the money to bribe from the political department down to the investigative agency to influence the results. No one knows as well as Mr. Chung's family. The day before he lobbied for promotion and today he may use the same relations to get reduced sentence.
With the communist government, only political prisoners can not flee, but with corrupt sentences, it is simple to run, not difficult at all. With huge properties he collected from decades of being officer, he has enough money for lobbying. However, as he holds many state secrets, he may find difficulties in getting reduced sentence.
Thoibao.de (Translated)