On October 24, singer Thuy Tien updated the total amount of money deposited into her account that has surpassed VND150 billion ($3.53 million), but according to her, with 5 provinces that each province has tens of thousands of flood-affected households, that amount is not too big.
Activists, on the other hand, complained on social media about the delay in government bailouts and the grandly announced hundreds and trillion dongs, but apparently only on TV, not in reality.
While singer Thuy Tien expressed her confidence to use the money for the right purposes, representatives of the party-controlled mass organization Vietnam Fatherland Front suggested that she should hand over the donated money she has mobilized to the Front to avoid public opinion from protest.
"This money is only decided by Tien and handed over to the affected people, so there are no meetings, no quarrels, and will reach the people quickly for sure," Thuy Tien wrote on her Facebook.
Responding to VNExpress on October 24, Vice Chairman of the Central Committee of Vietnam Fatherland Front Truong Thi Ngoc Anh advised individuals such as singer Thuy Tien to assign "mobilized resources" to the Fatherland Front or the Red Cross to keep public opinion from being skeptical.
"In particular, when an individual can mobilize a large amount of money, up to a few tens or hundreds of billions, no matter how transparent that individual is, someone will ask questions, which agency will monitor the transparency, openly in using that resource.
So in order for the public to not be skeptical, each individual should share the mobilized resources with organizations such as the Vietnam Fatherland Front, the Red Cross … to regulate effectively, practically and ensure publicity, transparency, avoid doubts of public opinion," Ms. Anh answered the question of VnExpress reporter about singer Thuy Tien voluntarily and directly into the flood area to transfer money and goods to each person.
Vice-Chairman of the Vietnam Fatherland Front also mentioned the shortcomings in Decree 64/2008 of the Government such as there is no sanction for not complying with the regulations: "All the money raised, agencies and the units are responsible for submitting it directly to the account of the Relief Board of the same level."
Referring to what needs to be changed in the new Decree on relief work at the request of Prime Minister Nguyen Xuan Phuc, Ms. Truong Thi Ngoc Anh suggested that "anyone who mobilizes relief must have a team organization or force to monitor and evaluate effectiveness."
"A monitoring mechanism will also be built, such as the annual audit of the Fatherland Front. The Red Cross will be checked by the Fatherland Front.
Through the recent flood donation in Central Vietnam, we realize that compared to individuals, the organization calling for relief is slower, because it also ensures the correct regulations when launching."
"Moreover, individuals, especially artists and celebrities are now calling for a relatively large amount of money by the application of information technology.
In the near future, we will apply information technology to help fundraising activities more effectively and quickly.
The Fatherland Front is also always ready to coordinate with artists or anyone else to carry out the relief campaign," the leader of the Vietnam Fatherland Front affirmed.
The Fatherland Front is directly led by the Communist Party of Vietnam and claims to be a political union organization, a voluntary union of political organizations, socio-political organizations, social organizations and other typical individuals in all classes, social classes, ethnic groups, religions and overseas Vietnamese.
The Vietnam Red Cross is also a member of the Vietnam Fatherland Front and a member of the International Red Cross – Red Crescent Movement.
Regarding the handover of money to the Fatherland Front, countless opinions on social networks expressed disagreement with the representative of the Vietnam Fatherland Front, they advised Thuy Tien not to hand over money to the Front, the way many people refer to it as "giving eggs for a snake."
FB Binh Minh commented:
"Give them and they will consume it and the donations will not be for flooded people"
FB Son Le Son Le:
"Mrs. Thuy Tien has no need to be supervised but you are the one who needs to be supervised. So, shut up so that people don't get cursed for useless."
FB Nguyen Thanh Thanh wrote:
"More than 10,000 comments, but I always find no comments supporting Ms. Truong Thi Ngoc Anh. She does not understand the people at all! I don't understand what the people are thinking about your so-called front."
FB Huyen Vu told Vietnam Fatherland Front that:
"Handing the eggs to evil? The people have awakened, please be kind and the people will believe"
FB Lam Phan:
"Once the money in their hands, they will divide between themselves. Don't be naive, Thuy Tien! "
FB Hoa Hong:
"Don't give money to anyone. You just do what your heart tells you to do. "
FB Pham Duyen wrote:
"There is only doubt when money is deposited into the Fatherland Front, but the individuals doing charitable activities do with the mind, so no one is worried."
After updating the number of donations up to VND150 billion, singer Thuy Tien said she will continue to give cash and build houses for flood areas.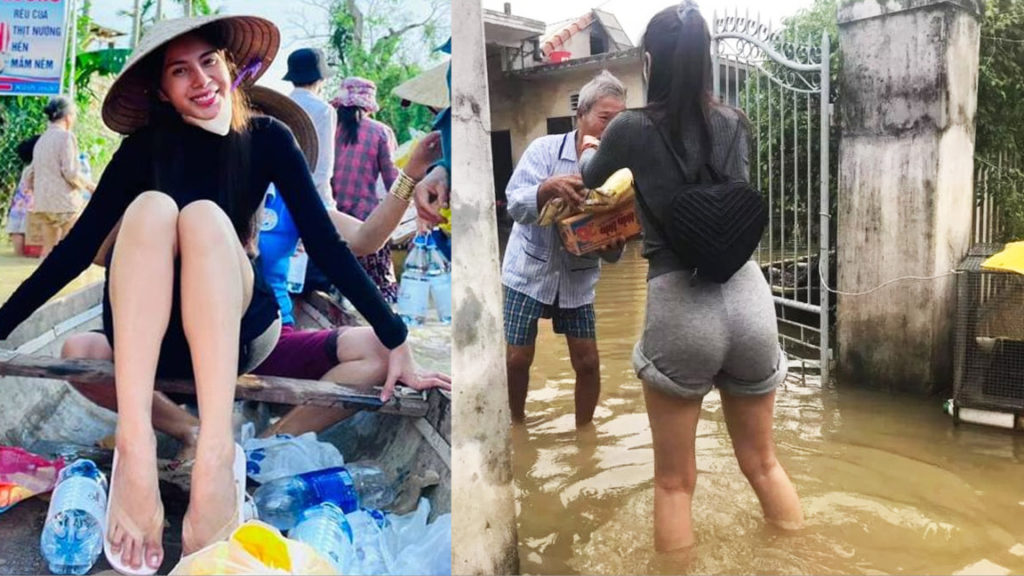 On the evening of October 24, singer Thuy Tien updated the amount of money to raise donations to support flooded Central people up to VND150 billion. She said she will continue to hand over people in difficult circumstances who need real help.
Singer Thuy Tien informed that people in Hai Lang district, Quang Tri province suffering flood damage registered with the village head to provide the list to the commune and district.
Then, Thuy Tien will post publicly on Facebook for people to follow and cross-check if there is any household with double or triple named or well-off house is still on the list. Because she wants to give gifts and money to the right people in need, who need real help.
Accordingly, there are 12 severely flooded communes in Hai Lang district that need support that Thuy Tien announced, including: Hai Thuong, Hai Quy, Hai Hung, Hai Ba, Hai Que, Hai Duong, Hai Dinh, Hai Lam, Hai Truong, Hai Son, Hai Chanh and Hai Phong commune.
"People think that I received a lot but VND150 billion is not too much given the fat that there are 5 provinces affected and each district has tens of thousands of households affected. Tien will consider the amount of money to use for the right purpose and most meaningful. This money is only decided by Tien and handed over to them, so there is no meeting, no quarrel, and will reach the people quickly, everyone can be assured. Thank you, everyone," Thuy Tien wrote.
"Tien will spend some money to rebuild houses that were swept away by floods, build a community house of 4 – 5 floors to avoid floods with a lifeboat in the house for the whole village, and provide cash support for households to borrow from a farming bank but their farming was swept away by the flood, making bridges and roads … " Thuy Tien informed on Facebook.
The press also simultaneously reported that Prime Minister Nguyen Xuan Phuc visited and directly gave gifts to the people of Quang Binh.
However, some images were criticized as being a bit too much and the government's money belonged to the state budget, so it could not be considered charity, because the charity money was from the generosity of the people sharing difficulties for each other.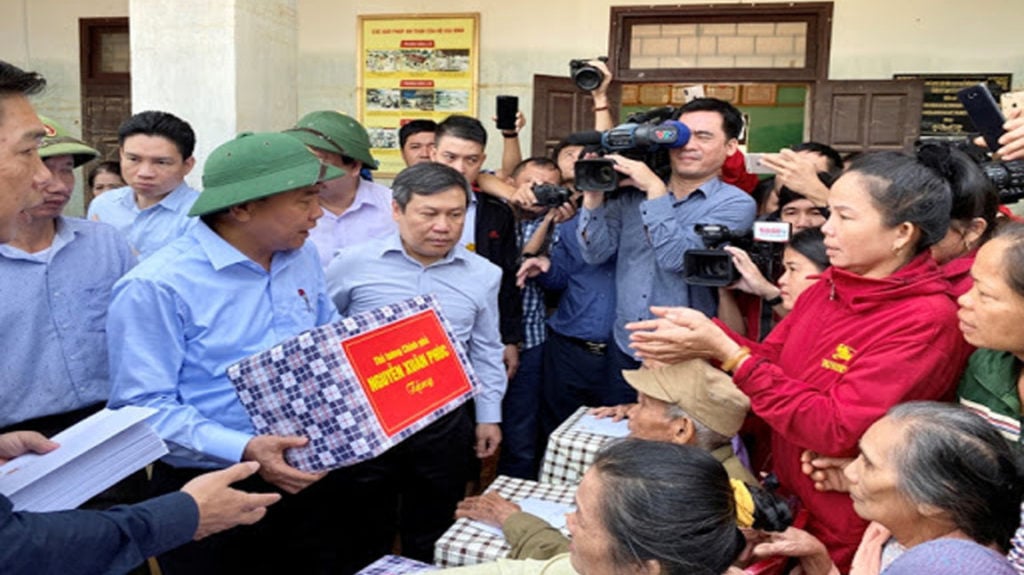 Activist Thao Teresa wrote on Facebook that:
"May I ask did the Prime Minister put out his family's pocket money to support the people?
All the money for the disaster relief, storm, and flood of the party and the government are budgeted money from the taxpayers' money."
Journalist Nguyen Tien Tuong gave a brief comment that:
"They govern the country and got paid from the budget. If they perform poorly, they have to go.
On October 18, the people sank, on October 20 they met.
After flooding, they gathered the helicopter.
When the water level decreased, they deployed boats.
People have gone through an urgent hunger, and they have sold hardtack sent to affected people.
The forests they say do not hold the covered area, the floods say they do due to climate change.
Criticizing them, they said not to touch anything also blamed the government."
From Hai Phong, writer Nguyen Xuan Nghia suggested that the way of a donation is very important.
Compared to singer Thuy Tien, Prime Minister Nguyen Xuan Phuc is too cumbersome.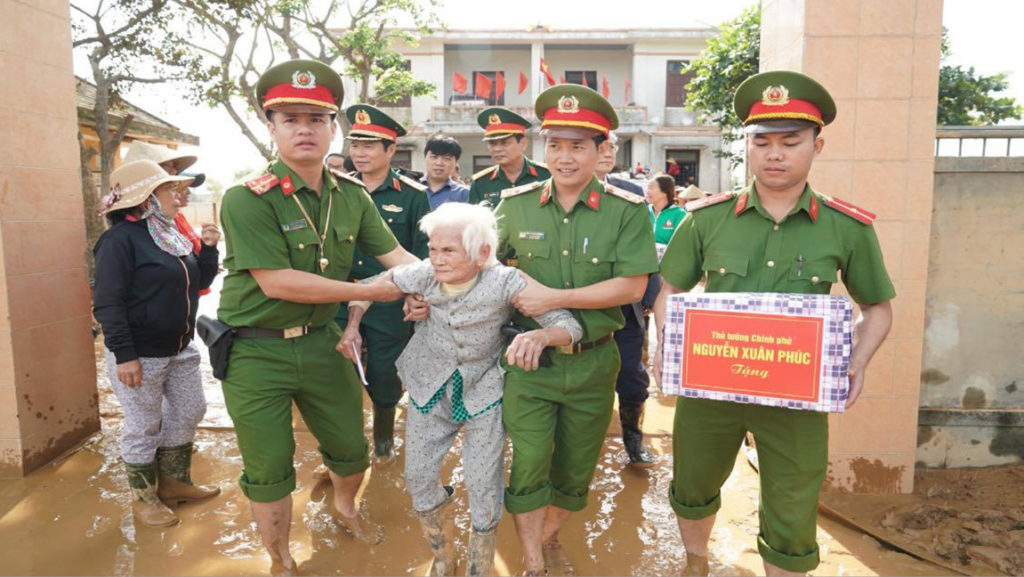 Thuy Tien came to people's houses and said: "I give you VND10 million. The receiver said thank you and put the money in his pocket, and Thuy Tien went to another house. While PM Phuc's gifts were packed in red and yellow color cardboard boxes (but gifts are not from the Prime Minister, gifts from people's money), then direct people to the government headquarters, ask reporters to take new pictures for propaganda," Nguyen Xuan Nghia stated.
Thoibao.de (Translated)