The continuous developments after the incident in which 3 Chinese maritime vessels sunk Vietnamese fishermen on April 2 showed that the United States seemed to be the most powerful country to defend Vietnam while Vietnam gradually faded away from the arms of Chinese warm and seem to lean toward America. This is an observation by political analists about changes in the bilateral relationship between Vietnam and the US.
In an article published on BBC News Vietnamese on April 11, lawyer Ngo Ngoc Trai from Hanoi said that Vietnam should engage with the US by enlisting the support of President Donald Trump.
"On April 9, US President Donald Trump shared on two social networking sites, saying a shipment of 450,000 medical protective clothing was brought to the US to fight against Covid-19."
In the short sharing, he mentioned the cooperative role of friends in Vietnam and the thanks at the end.
The incident was immediately reported by Vietnamese newspapers.
The international public is also very interested, up to noon on April 11 Vietnam time, the information shared on Facebook has received more than 220 thousand emotions expressed, more than 10,700 comments, more than 17,900 shares.
The post on Twitter has received 98 thousand likes, more than 20.6 thousand shares and nearly 9 thousand comments.
Looking back, you can see that, among recent generations of US presidents such as Obama, Bush, and Clinton, no one has mentioned Vietnam as many times as President Trump.
For example, President Obama, perhaps in both 8-year presidential terms, in addition to official speeches on a few diplomatic occasions or related events, the Vietnamese name is mentioned in the text.
As for personal privacy, perhaps Mr. Obama, when was still in his position, never mentioned Vietnam.
But for President Trump, it seems that Vietnam is a memorable, close, and worthy address.
In May 2019, President Trump mentioned Vietnam in a statement about trade with China.
"Many companies subject to import duties will also leave China to move to Vietnam and similar countries in Asia," he said.
The statement is valuable as an advertisement for businesses about commercial business opportunities in Vietnam. "
"Another time in 2019, Mr. Trump mentioned Vietnam but in a negative sense when accusing Vietnam is also a country that profitees trade with the US.
In February 2019, the world watched the meeting between President Trump and President Kim Jong Un of North Korea in Hanoi.
Mr. Trump's agreement to choose Vietnam as a meeting place has certainly brought a positive image of Vietnam in the international arena.
Earlier, in November 2017, President Trump also went to Da Nang to attend the APEC conference and enlist to visit Vietnam.
It seems that the Vietnamese name has the benefit and advantage of President Trump, so in the job handling statements he invokes.
Perhaps due to his strongly differentiated personality, he thought that he could go against the traditional policy views of previous presidents, he wanted to resolve the disagreement with North Korea and get close to Vietnam.
Or because of the major strategic policies under which Vietnam plays an important role, such as the Indian Pacific policy, pivots toward Asia to handle the challenges here, reaffirming America's supremacy in this place.
Especially the US is dealing with trade issues with Vietnam's neighboring country of China.
Taken together, for various reasons, Mr. Trump is currently a friendly concern with Vietnam.
Although he himself is easily controversial in the United States and many of his statements are also opposed by the public.
But for Vietnam, it is seen before Trump that no President has mentioned Vietnam so many times.
And after him, will anyone else mention Vietnam?
What should Vietnam do?
President Trump has a great policy of wanting to bring the great America back.
And from a personal perspective, he seems to be attached to Vietnam.
This has become a cause for concern for Vietnamese leaders."
Lawyer Ngo Ngoc Trai stated.
According to the international press, only days after the US State Department responded to the reaction of alleged China causing "serious concern" in the East Sea (South China Sea), on April 9, 2020, US Department of Defense issued a statement criticizing China's maritime forces to attack Vietnamese fishing boats.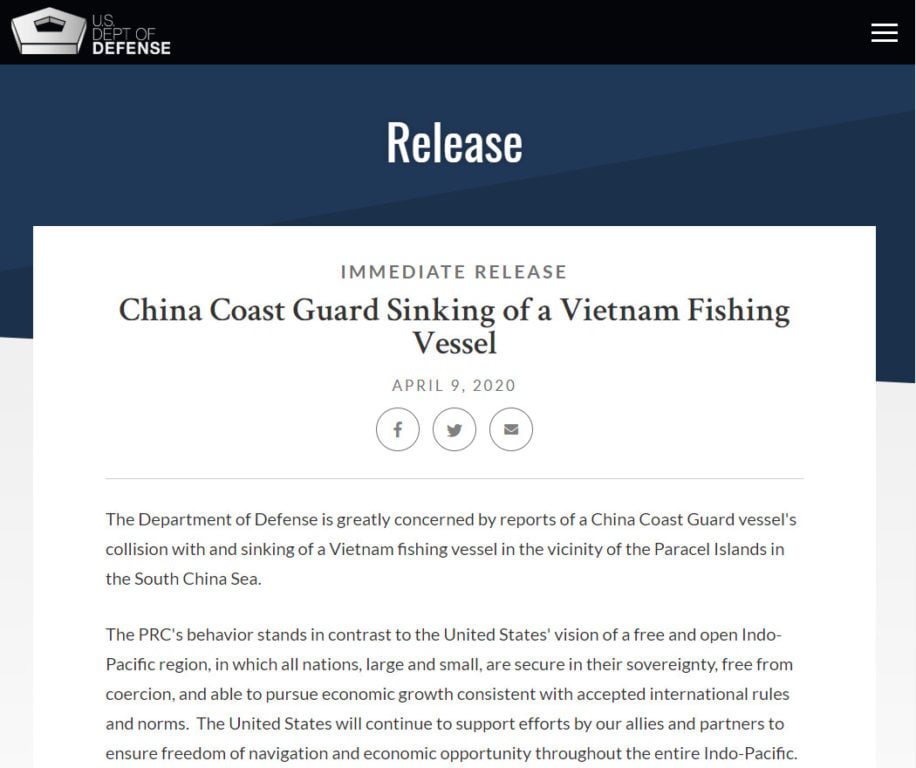 Thursday's Pentagon statement said:
"The US Department of Defense expressed deep concern over the information that Chinese maritime vessels collided and sunk Vietnamese fishing vessels in the Paracel Islands.
"China's actions are contrary to the US vision of a free and open Indo-Pacific region, in which all countries, big or small, are guaranteed sovereignty, without coercion and the right to economic development in accordance with international rules and standards," the US Department of Defense said in the statement posted on its official website.
"The United States will continue its efforts to support allies and partner countries to ensure freedom of navigation and economic development opportunities in the Indo-Pacific."
Commenting on this development, on April 10 from Hanoi, a regional political and security observer and analyst told BBC News Vietnamese: "Yesterday, there was a statement from the US Department of Defense about the Chinese maritime boat incident that sunk a Vietnamese fishing boat."
"I understand that the US Department of Defense statement is even heavier than the US State Department statement."
"President Donald Trump has given the full authority to Secretary Mark Esper to act in the Asia-Pacific region as well as the Indian Ocean."
It is reported that next week a four-nation group meeting including the US, Japan, India and Australia, known as the Quad, may be discussed in the next week and information awareness exchanges between stakeholders.
Researchers do not want to reveal their identities, raise opinions from a regional strategic research institute:
"They decided not to invite Beijing to the event. Beijing, with the Covid-19 pandemic, seems to have formed the view of the West, first of all the United States, Britain, Germany, Japan that Beijing is an enemy, not a "strategic competitor of America."
"So they don't invite China and the Quad is assuming that Beijing can attack Taiwan and the Vietnamese Truong Sa (Spratlys)."
"So how does Vietnam need to behave in the current period?" Lawyer Ngo Ngoc Trai reiterated the main point in his opinion.
"Currently the United States is being hit by the pandemic, as of the morning of April 11, the United States has more than half a million people infected and nearly 18,693 deaths.
To see the severity, can be compared with one of the military battles that left a deep impression in American history is the battle of Pearl Harbor, the United States lost about 2500 people.
So far, the flu has caused about 7.4 times more human casualties in Pearl Harbor and the number has not stopped.
In the meantime, allies of the United States are hard to help when they are also struggling.
In Vietnam, the disease situation is different. According to data from the Ministry of Health, as of the morning of April 11, Vietnam had 257 infections, 113 were under treatment, 144 were cured and there were no deaths.
Accordingly, the disease in Vietnam is still under control and there has been no human casualty.
It is time for Vietnam to pay attention to the use of its resources to support countries to build their own soft power.
Looking at China, they are also acting to create soft power, China becomes a supporter of medical equipment for countries. Although there is much controversy surrounding that.
Taiwan is also working to create soft power before the world, it has prepared a $30 billion budget ready to support countries with the same slogan "Taiwan can help."
Looking back at history, there are very few occasions in history for Vietnam to become a rescuer for other countries.
A rare occasion was in 1944-1945, the Vietnamese army led by President Ho Chi Minh tried to save the Allied pilots shot down by the Japanese in the northern mountainous region and then helped them return to their unit.
President Ho Chi Minh foresaw that his work would help to build relationships with the Allied leaders and will bring about benefits to Vietnam.
In recent years, Vietnam has sent medical teams to the UN peacekeeping force in South Sudan.
The result has created a good image, Vietnam becomes a member responsible for contributions in the international community.
Now this Covid-19 outbreak is an opportunity for Vietnam to seize the opportunity to become a rescuer.
For a long time, Vietnam has developed thanks to two things, foreigners come to invest in business or tourism in Vietnam and Vietnamese people go abroad to work for jobs to send money home.
The question is what to do so that when the pandemic flu is over, with the encouragement of the country's government, they will return to Vietnam more. And Vietnamese people will go to other countries more smoothly.
To that end, the Government of Vietnam may suggest to the US and President Trump that Vietnam is willing to bring Vietnamese medical personnel to assist.
Human resources may consider mobilizing a contingent of health workers who have just returned from South Sudan since the end of 2019.
Given President Trump's personality, attitude towards Vietnam, he is likely to accept.
If Vietnam can do that, it will achieve its goal of becoming more connected with the United States.
And more importantly, Vietnam will have its name on the map of human resources in the world healthcare industry.
This is the segment of labor force that Vietnam is currently initially developing in order to provide a limited amount to its first partner, Japan.
Another country in Southeast Asia, the Philippines, has long held a huge market share of human resources for health workers.
According to the article "Labor export Philippines: double-edged sword" in Tuoitrethudo newspaper, said the country has up to 10 million workers abroad.
The article said that the Philippines provides a huge source of labor, including nurses and other jobs related to health care, working in hospitals, clinics, businesses or in private homes country.
Now that Vietnam wants to develop its human resource supply in this field, the Covid-19 pandemic is an opportunity.
In addition, Vietnam also needs to promote its long-standing export strength as a garment industry, need to adjust the production of a large number of masks and medical protective clothing to supply to countries.
That way Vietnam will increase its ability to contribute to the rescue of the world from the flu.
And increasing ties with the President of the United States, Mr. Donald Trump.
Finally, the most important thing that Vietnam has to do before or after it is to abandon the whole Communist regime and the Socialist regime full of corruption and suffering in this country, which US President Donald Trump and other democratic and free countries in the world are always fighting to eliminate for humanity.
Thu Thuy from Hochiminh city – Thoibao.de (Translated)