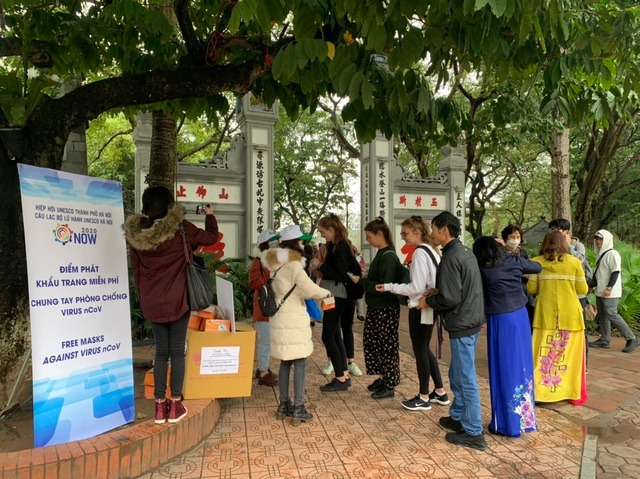 Hanoi is probably one of the places that feels the most of the tourism downturn in the current wave of corona virus (Covid-19) outbreaks.
"Customers cancel rooms a lot," said Nguyen Thi Hoan, a homestay manager in Luong Ngoc Quyen street, central Hanoi. "Not only Chinese but also other foreign guests." Room reservation and pick up activities in Hanoi's old quarter area are almost stagnant, Hoan said.
"The homestay industry only peaks for a few months, from around October to March and April, and falls in summer and autumn. This year, the peak season is again plagued by epidemics," said Mai Van, a manager of Sanitation coordination for homestay spots in Hanoi's old quarter area. "Every year at this time guests register up to 80-90%. Currently only reached 5-10% of booking capacity."
International visitors to Hanoi are very diverse, including all kinds of nationalities, from around the world, but Chinese tourists usually account for about 30%, much more than visitors from other countries.
"Since the outbreak of the disease, hosts in the old town have completely stopped accepting Chinese customers," Van said.

Another source of tourists also plummeted, is the overseas Vietnamese, according to a person with decades of experience in the tourism industry in Hanoi.
"Every year, many overseas Vietnamese returned to Vietnam after Tet, but this year, overseas Vietnamese left very early," said Phan Hong Chau, director of Hope and Tourism Services Joint Stock Company (Esperantotur) which specializes in tours and ticket sales.
The loss of these huge sources of visitors has become a powerful blow to travel-related activities, from hotel services, restaurants, transportation, aviation, tours, to a number of financial companies cater to and others, according to Ms. Chau.
The most obvious perception is probably not only business owners, business establishments, but also salaried employees.
"The homestay business is very expensive. There are no guests booking, but the landlords still have to pay a lot of money, from rent, cleaning, laundry, bedding, utilities, all," Vân said.
South Korea's Ministry of Health and Welfare issued a notice on Feb 11, advising people to restrict their visits to Vietnam to prevent what the ministry said was the transmission of Corona virus to the Korean peninsula through a third country outside of China.
In addition to Vietnam, the ministry also advised citizens not to visit Japan, Singapore, Malaysia, Thailand and Taiwan because these places had COVID-19 infection in the community.
Like the reaction of many other countries, the Korean Ministry of Foreign Affairs had previously advised citizens not to go to Hubei Province, China, where the Corona virus outbreak was causing global concern.
As of Feb 12, Vietnam's Ministry of Foreign Affairs has not seen any reaction to the latest move by the Korean government.
Meanwhile, according to Taiwan News, the Ministry of Foreign Affairs of Taiwan on Feb 12 summoned the Korean diplomatic representative to request the correction of information about Corona virus outbreaks in the island community.
Vinh Phuc completely isolated Son Loi commune. More than 10,000 people could not leave the commune. The provincial police, ministries, health workers … will organize 8 posts to isolate people in Son Loi commune (Binh Xuyen) for a period of 20 days (Feb 13 – March 3) for freezing region to suppress Covid-19.
Son Loi commune has 5 cases of Covid-19 infection. Currently, there are 91 people under concentrated surveillance in the province and 21 in Quang Ha General Clinic.
Statistics from the Vietnam National Administration of Tourism show that South Korea is on the list of the most tourists coming to Vietnam in 2019, second only to China.
Meanwhile, Korea is also one of the most popular tourist destinations for Vietnamese tourists as well as home to many Vietnamese brides. According to the Ministry of Health and Welfare, up to Feb 12, the country has recorded 28 cases of Covid-19, 13 cases higher than Vietnam.

"If I know for sure that a homestay accepts Chinese guests, I won't dare to go to clean its toilet," said Van.
"The sisters in my group who manage them also think so, they are afraid of having Chinese customers so they don't go to work."
"Because I also manage, I know who the guest is so I still come. If the employee refuses to work, the senior managers must go, to maintain the service for the host (host)."
Both outbound and inbound tours affected
Not only has a significant decrease in the number of visitors to the city, Hanoi tourism has also been seriously damaged due to the cancellation of outbound tours, especially tours to China.
Ms. Phan Hong Chau, director of Esperantotur: "Due to the corona virus outbreak, all tours [going to China] were canceled 100%."
"The number of tourists traveling to China this year was initially expected to be very high because of its reasonably priced product and tour agencies offering very good services," Chau said. "Unfortunately, due to the corona virus outbreak, all tours were 100% canceled."
"After that, the domestic tours were also canceled a lot. Now we mainly only serve retail customers, while the big groups almost do not."
"Now, on-site staff are mainly to assist customers in 'refunding, canceling, exchanging' services."
"If this flu epidemic is quenched early, in the first quarter, it will be a blessing for the tourism and aviation industries, which are, in my opinion, directly affected at a terrible level," Ms. Chau said. identify.
Being aware of public health issues is important, homestay business owners in Hanoi have been proactive in coordinating with guests and local authorities, police to monitor and control disease.
In addition to not accepting Chinese guests, Ms. Hoan said that the hosts frankly exchanged with guests to make sure not to accept people who have been in transit or visited China within 14 days before coming to Hanoi, and accepted refund for cases that want to cancel the room.
From a business perspective, Ms. Chau assessed that "the consequences of the flu will be very serious".
However, she is still optimistic. "Maybe the first quarter declines, that number will skyrocket in the last six months of the year."
She said this rare time of absence is also a good time for her company and the tourist companies to spend time training, improving professional skills and skills for employees.
As for Ms. Hoan, this is the time for her to temporarily give herself a rest and learn more about her favorite things without having time to pursue.
The dangerous pandemic, caused by Corona Virus from China to Vietnam, is causing great harm in all aspects of life, activities and businesses of millions of Vietnamese people.
Around the world, especially in China, it has caused the deaths of more than 1,000 people and hundreds of millions of people have been restricted or isolated from the world because of outbreaks.
The Party and the Government of Vietnam should abolish the situation of imposing fines when people post information about the progress of the pandemic, only then will the social unrest soon be brought to light to allow the government to have more information about the Covid-19 outbreak to prevent its spread.
Hoang Lan from Ha Noi – Thoibao.de (Translated)